Today, the Vallejo Police Department is expected to name Ofc. Brad Kim as the officer who shot and wounded a person in the early morning hours of June 27, Open Vallejo has confirmed.
"Tomorrow morning sometime (Monday), the suspect that tried to kill Brad Kim will be arraigned at the hospital," Vallejo Police Officers' Association President Lt. Michael Nichelini wrote to fellow union members in an email Sunday. "Shortly thereafter, the charges, suspect info and victim info will become public," Nichelini wrote. "This includes the release of Brad's name."
Neither Nichelini nor Kim immediately responded to requests for comment.
Kim shot and wounded a man around 4:01 a.m. during a reported burglary in the 1400 block of Springs Rd. last Tuesday, according to a statement issued by police that afternoon. The man allegedly tried to drive away from the scene, sending Kim onto the hood of the gray Dodge Charger, at which point he fired, according to police.
Spokespeople for the Vallejo Police Department and the city did not immediately respond to requests for comment. Neither the police department nor the officer's union shared details about Kim's medical condition. The department asserted in its initial statement about the shooting that the driver's injuries were considered non-life threatening.
In his email, Nichelini also said the driver's family "has been very cooperative and actually concerned about Brad's well-being."

"Additionally, we have been monitoring social media and there do not appear to be any signs of harm directed at Brad," Nichelini wrote. "Of course this could all change if a civil rights attorney wants to make noise," Nichelini added. He has had an antagonistic relationship with local civil rights attorney Melissa Nold, whom he covertly filmed at a city council meeting in 2019.
Nichelini noted in his email to union members that Kim is aware he will be named in the shooting.
The June 27 shooting is the department's first in more than three years, which is the longest the agency has gone without a shooting in more than two decades, Open Vallejo research shows. In June 2020, the California Department of Justice began a period of oversight intended to reform Vallejo's police practices. Little was accomplished, however, and the state DOJ recently announced it would seek to impose court-ordered reforms on the agency.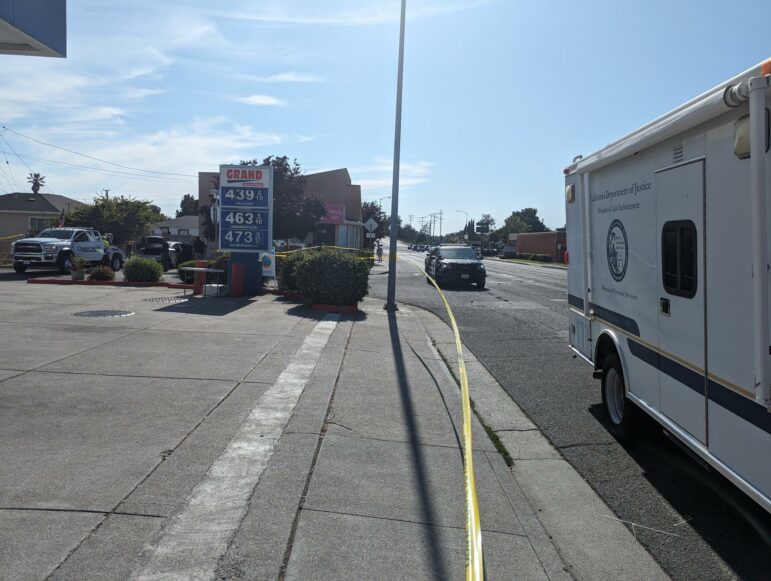 The Solano County District Attorney's office is leading the investigation into the June 27 shooting. However, photographs obtained by Open Vallejo show a vehicle from the state DOJ's Bureau of Forensic Services was present at the scene that afternoon. A witness who shared the photographs with Open Vallejo said state investigators conducted an independent examination of the crime scene. They spoke with Open Vallejo on condition of anonymity due to concerns about retaliation by Vallejo police.
Kim joined the Vallejo Police Department in 2018 and had not previously been in a shooting while employed with the agency, public records show. In June 2020, Kim collected a drone that recorded the police killing of Sean Monterrosa from a witness. A forensic examination later found the footage had been overwritten with zeros. There is no indication that Kim tampered with the drone.
Police have not yet disclosed footage of the June 27 shooting.