They call it, "The Badge of Honor." For a generation, a secretive clique within the Vallejo Police Department has commemorated fatal shootings with beers, backyard barbecues, and by bending the points of their badges each time they kill in the line of duty, an investigation by Open Vallejo has found. The custom was so exclusive, some officers involved in fatal shootings were never told of its existence.
But senior law enforcement and government officials say everything changed when a police captain tried to end the practice following the fatal shooting of 20-year-old Willie McCoy in February 2019. Over the next six months, the tradition became known at the highest levels of Vallejo city government and the district attorney's office.
The captain who pushed for an investigation, John Whitney, would soon be out of a job. A former SWAT team commander with two master's degrees, Whitney says he was forced out of the department after raising concerns about the badge-bending tradition and other misconduct. He filed a retaliation claim against the city in March.
"The community we serve will lose faith in us," Whitney told Open Vallejo. "This practice needs to end."
At the time of Whitney's firing, nearly 40% of officers on the force had been in at least one shooting, Open Vallejo research shows. More than a third of those had participated in two or more. The department employs about 100 sworn personnel.
This article is based on interviews with more than 20 current and former government officials as well as public employment data, post-shooting investigative findings, court and other public records, archived news accounts, and hundreds of photographs taken before and after fatal shootings. Many of those interviewed spoke on condition of anonymity to describe sensitive discussions between and within their agencies. Several expressed significant concerns about retaliation. Open Vallejo reached out individually to each officer named in this story, most of whom either declined to comment or did not respond.
Of the 46 current and former Vallejo police officers who have been involved in fatal shootings since 2000, at least 14 had their badges bent by a colleague afterward, sources familiar with the tradition confirmed. One source told Open Vallejo the number could be much higher.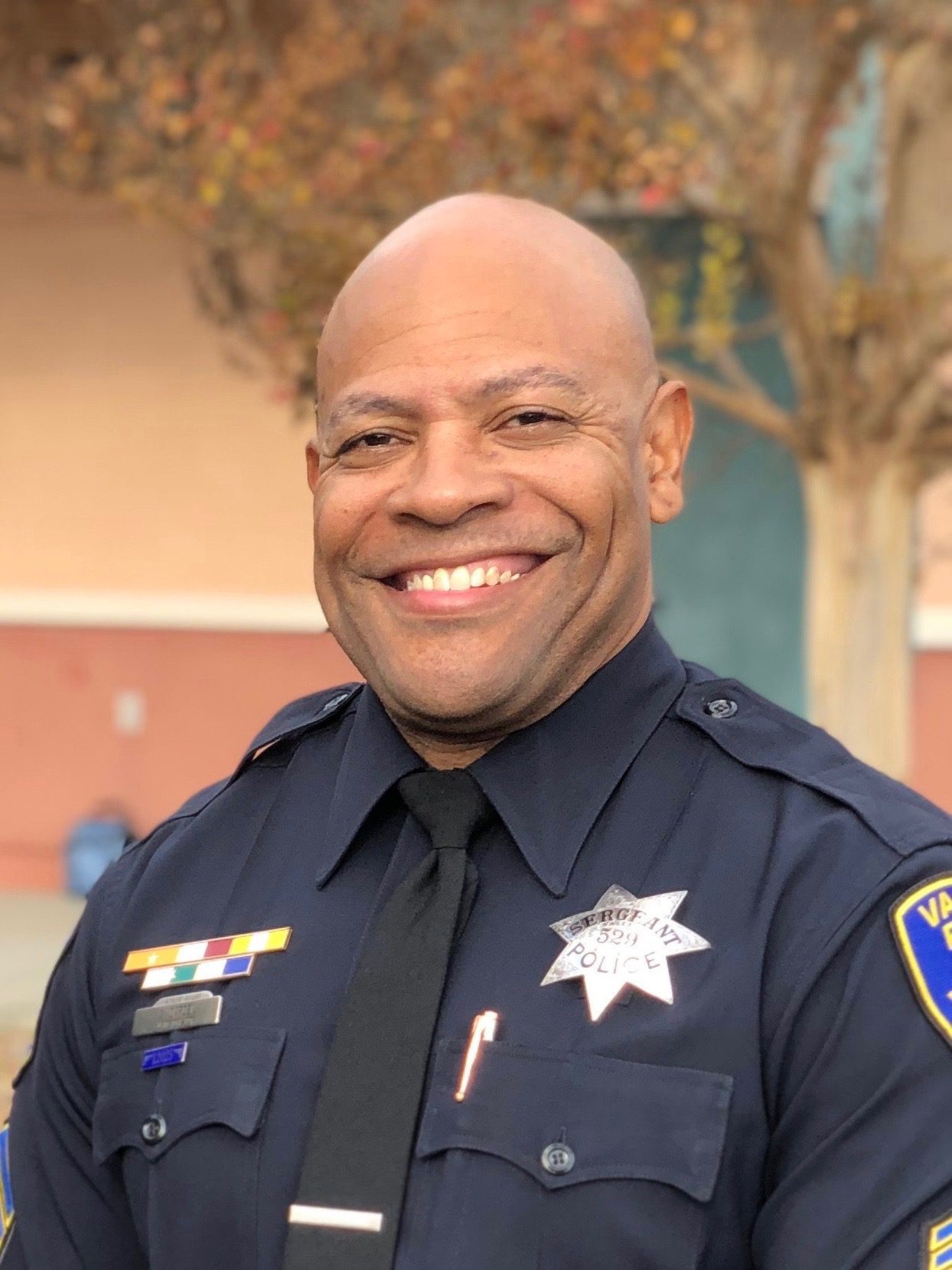 At least seven officers' badges have multiple bends, according to officers who have seen them and photos obtained by Open Vallejo. They belong to some of the department's most prolific shooters, including Sean Kenney, Joe McCarthy and Steve Darden, a member of Vallejo's command staff who was put in charge of the city's Hostage Negotiation Team after being promoted to lieutenant in February. Together these men account for nearly a third of the department's 30 fatal shootings of the past two decades.
"My badge has never been bent. That's a lie," Darden said when reached by phone Tuesday, referring questions to the department's public information officer. Kenney and McCarthy declined to comment.
In 2003, then-Vallejo Police Chief Robert Nichelini replaced the department's brass badges with plain sterling silver seven-point stars like those worn by Oakland police, his former agency. The change may have enabled Vallejo's ritual, as the softer metal is easier to bend. In addition, Vallejo officers typically wear work uniforms bearing an embroidered patch in the course of their normal duties. The subtlety and precision with which Vallejo's silver badges can be bent, and the relative rarity of seeing one, have helped shield the Badge of Honor from scrutiny.
Nichelini denied having knowledge of the practice, and told Open Vallejo he "would never permit unauthorized modification of badges."
"I believe this is a figment of someone's imagination," he wrote via email.
Vallejo Mayor Bob Sampayan, a retired police sergeant, said he saw bent badges during Nichelini's tenure.
"When I was on the police department, I did notice that there were a couple of officers that had bent badge tips," he told Open Vallejo. "I had no idea what happened. Nobody said anything back then."
But Sampayan has since become aware of the meaning behind the department's badge-bending ritual, which he confirmed to this publication. And although Sampayan said City Manager Greg Nyhoff had been informed of the custom, Nyhoff denied knowledge through his deputy.
"We don't have any information about a current practice by our officers related to badges," Assistant City Manager Anne Cardwell wrote on behalf of Nyhoff. "We take any claims of misconduct seriously and will follow up with the appropriate investigatory measures, as well as take appropriate action based on information provided."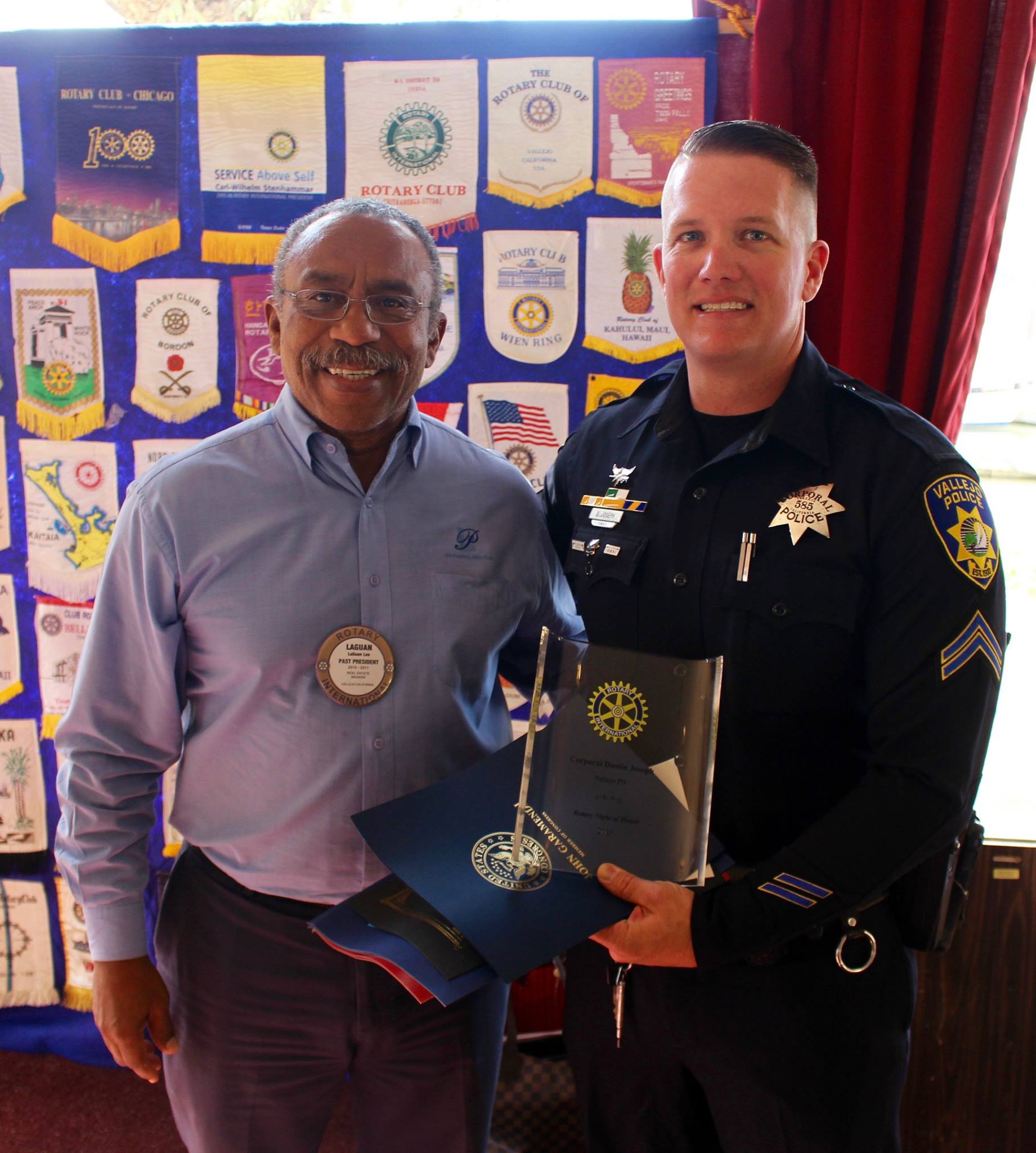 Last month, state Attorney General Xavier Becerra announced an "expansive review" of the department's policies, practices and procedures. Becerra added a separate criminal probe on July 17, after officers destroyed key evidence in the killing of 22-year-old Sean Monterrosa last month. Nichelini's son Michael, a lieutenant who heads Vallejo's police union, is on leave from the department over his alleged role in the evidence destruction.
Intervention by the attorney general comes amid a cascade of troubling revelations over the culture within the department, whose roughly 100 officers kill more people per capita than all but two other cities in California, a 2019 investigation by NBC Bay Area found. Current and former employees describe a department where bullies thrive, whistleblowers are dealt with harshly, and the pressure to shoot and kill civilians is strong.
"Some days I feel like I work with a bunch of thugs who take pleasure out of hurting people," a current member of the department told Open Vallejo on condition they not be named.
'Kind of like a notch on the bedpost'
While reporting this story, Open Vallejo received a series of threatening emails from an anonymous account using the name, "Tariq Aziz." Law enforcement sources believe the author is a high-ranking Vallejo official with knowledge of the badge-bending tradition. This is consistent with Open Vallejo's analysis of the emails and other evidence.
After several failed attempts to get a response, the author of the emails addressed the subject of this story directly.
"The cops who shoot someone bend the tabs on their badges," he wrote on April 5. "Kind of like a notch on the bedpost. It's an indicator to each other how many hoodlums they've shot. They think it's funny."
"Ask Whitney," the message continued. "He knows all this stuff. It's why he's gone."
A symbol of public faith
Sources say not every officer who kills is invited to participate in the Badge of Honor ritual. The vetting process is stringent, if straightforward. Those who kill meet its first requirement. Those who can be trusted not to talk fulfill the second.
For those invited into the group, a fatal shooting — their own or a colleague's — is often followed by a barbecue or other celebration, according to current and former police department employees. The actual bending of badges occurs there or at roll call, an official law enforcement briefing that takes place at the beginning or end of a shift. Photographs indicate the first bend is often applied at the 4 o'clock point of a new initiate's badge.
The sweep of Vallejo's badge-bending tradition might never have come to light but for the fatal shooting of Willie McCoy, a 20-year-old musician and community college student who fell asleep behind the wheel of his Mercedes while waiting in a Taco Bell drive-thru on Feb. 9, 2019.
When honking car horns failed to rouse McCoy, a restaurant employee called 911, seeking help. "He's unresponsive," the employee explained to a dispatcher. "I've already had, like, people try to knock on the window. I have no idea what's going on." Officers were sent to conduct a wellness check.
Officer Anthony Romero-Cano was first to the scene, followed seconds later by Officer Jordon Patzer. Standing inches from the car, their Glock 17 pistols pointed at McCoy, they noted a gun in his lap. Romero-Cano suggested breaking the driver's side window and pulling McCoy out.
"No, just wait here until we get more people," Patzer responded. A second-generation Vallejo police officer, Patzer's father Jeremie killed two men and left another critically injured during his six-year career with the department. Current and former colleagues say at least one point of the elder Patzer's badge is bent.
Officer Mark Thompson soon arrived. Thompson shot a man, who survived, in 2006. The next year, he Tased another man to death. He has at least one bend in his badge, according to two sources familiar with the matter.
Thompson and Patzer did not respond to requests for comment.
"He's got a gun in his lap," Romero-Cano told him. "The magazine's— magazine's half out, so he's only got one shot if he shoots." The officers discussed pulling McCoy out of the car. "I don't even want to give him a chance," Romero-Cano said.
"If he reaches for it, you know what to do," Thompson replied before trying the locked driver's side door.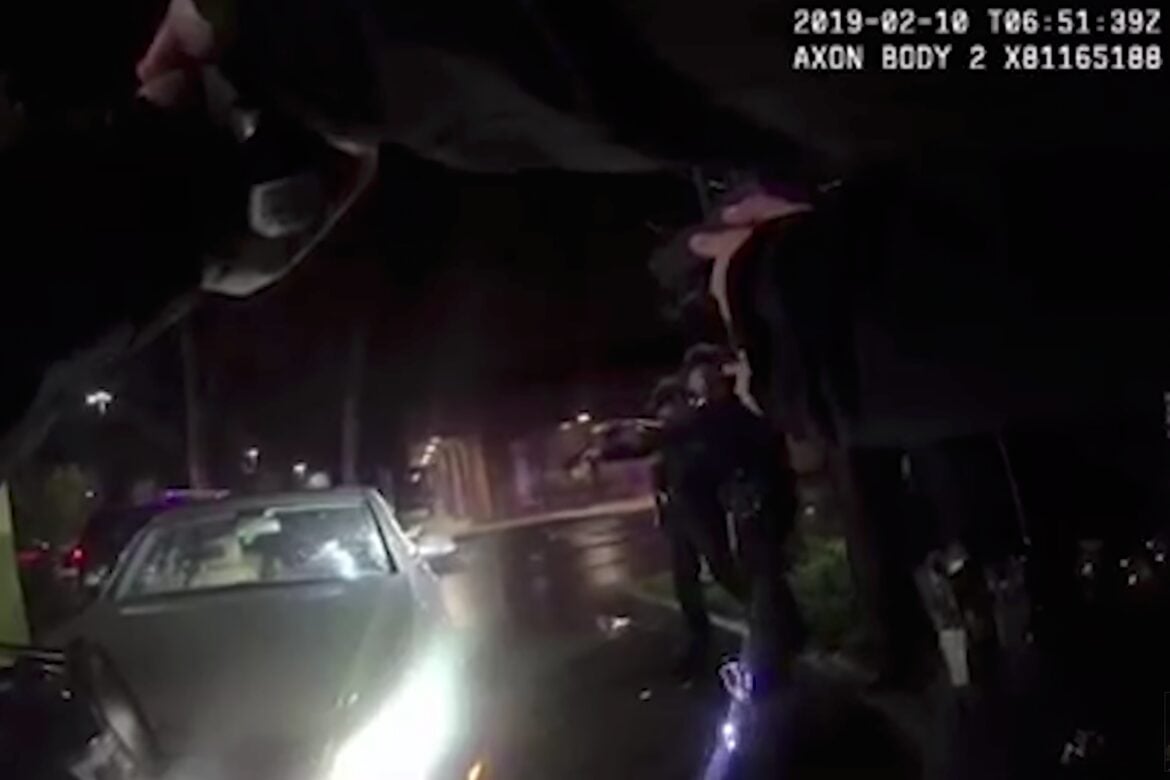 Officer Colin Eaton arrived and took up a position near the front of McCoy's car. Officers shone their weapon-mounted flashlights into the vehicle for the next two minutes before McCoy, who appeared to be asleep or nearly so, reached up with his right hand and scratched his left shoulder. Patzer, Thompson, Romero-Cano, and Eaton began yelling commands. At that moment, Officer Bryan Glick pulled his police SUV in front of McCoy's car, stepped out, and drew his weapon. Seconds later, the officers fired 54 rounds at McCoy.
A sixth officer, Ryan McMahon, arrived on scene just as McCoy started to stir. He ran up behind Glick and fired one .45-caliber round toward the car. For this, McMahon would collect his second bend in less than a year, law enforcement sources told Open Vallejo.
McMahon collected his first bend, sources say, for killing Ronell Foster after a brief foot chase on the night of Feb. 13, 2018. McMahon told investigators he stopped Foster, who had been riding his bicycle without a light in Vallejo's quiet downtown, to "educate" him about traffic safety. Foster rode away, fell off his bicycle and ran. McMahon chased Foster into the courtyard of a building on Carolina Street, where he struck Foster repeatedly with his duty flashlight. Foster broke free, turned, and tried to get away. McMahon fired seven rounds, striking Foster in the back and the back of his head.
Asked by investigators how far away Foster was when shot, McMahon replied, "point blank." A 33-year-old father of two young children, Foster did not have a weapon.
McMahon denied his badge is bent through his attorney, Justin Buffington. Asked whether McMahon's badge had been bent during the first six months of 2019, Buffington replied, "Not that I ever saw."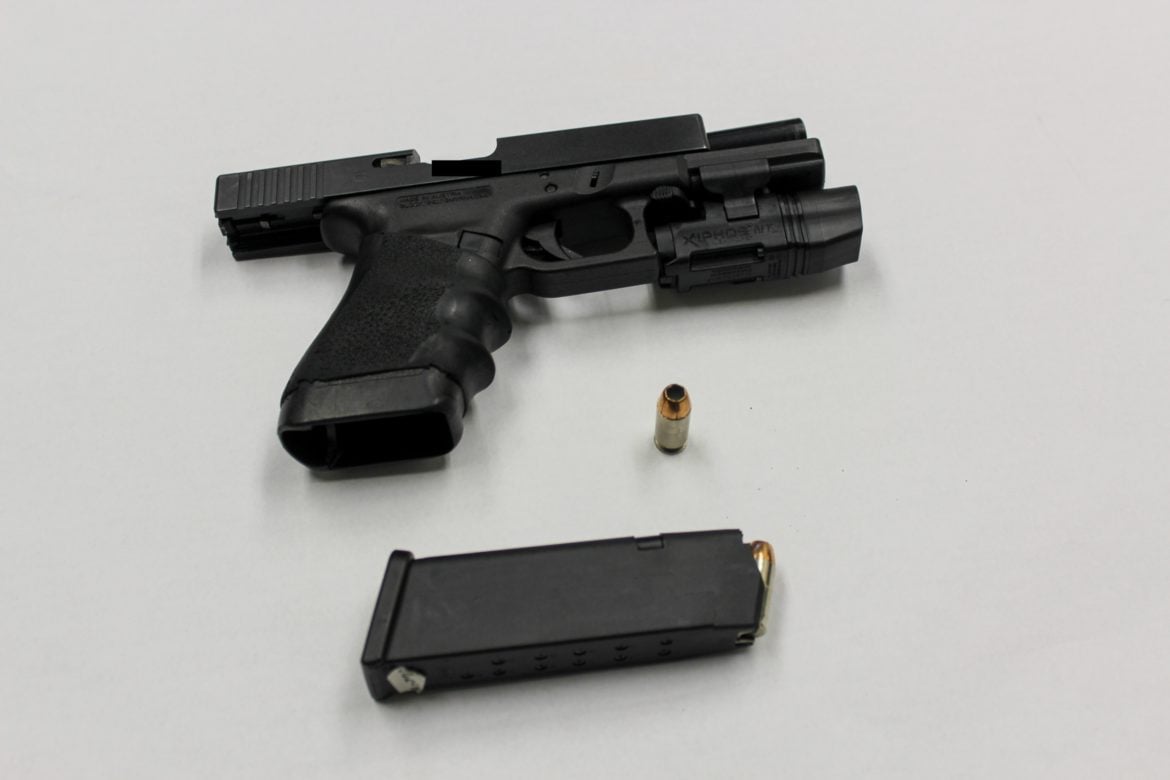 Krishna Abrams, who was elected district attorney in 2014, cleared McMahon of wrongdoing in January. Her office denied knowledge of the badge-bending.
"We don't have any credible evidence of that," Solano County Chief Deputy District Attorney Paul Sequeira told Open Vallejo. "We don't respond to rumors. Nobody brought that to us."
But Abrams participated in meetings where the custom was discussed months before clearing McMahon, according to two high-ranking law enforcement officials who work at different agencies.
'A negative culture'
The Foster and McCoy shootings troubled some members of the department. They believed that if officers had taken cover and used time and distance to their advantage, McCoy could have been taken safely into custody. One police official who spoke with Open Vallejo on condition of anonymity said the incident resembled "an execution."
On March 29, 2019, Vallejo released body camera footage of McCoy's killing in response to a public records request by this publication. It was only the second time video of a Vallejo police shooting had ever been publicly disclosed. The officers' actions captured in the video footage garnered worldwide condemnation.
As pressure mounted from within and outside the department, Chief Andrew Bidou told Whitney, the captain who would soon become a whistleblower, to address the badge-bending at a meeting with command staff. When it came time to discuss the badges, Bidou stood up, led civilian staff out of the room, and did not return, Whitney said.
Whitney told Open Vallejo that he addressed the badge-bending with those in attendance, which included all officers above the rank of corporal. Whitney then ordered the officers to inspect their subordinates' uniforms and collect any bent badges.
Ten came back within the first hour and were placed in a small cardboard box in the office of Bidou's executive assistant.
But Bidou had plans to retire and rejoin the city as interim chief, effectively doubling his pay to $40,000 a month. Whitney said Bidou told him that the cost of repairing so many badges could raise suspicions within the city's finance department and cause him to lose the interim position. The chief ordered the badges returned to the officers, who were instructed to fix them. It is not known whether any officers actually did.
Bidou's plan to serve as interim chief fell short after it was found to violate California's retirement rules. Former Fairfield police chief Joe Allio was appointed as interim chief; Bidou now works for PG&E.
Whitney said he then brought his concerns about the badges to Vallejo City Manager Greg Nyhoff, Mayor Bob Sampayan, and then-City Attorney Claudia Quintana in several private meetings in April 2019. (Quintana denied knowing about the bent badges.)
Interim Chief Allio also knew about the badge-bending, Sampayan said. Two senior government officials independently confirmed that Allio was briefed while serving as interim chief in 2019. (Vallejo recently brought Allio back to serve as interim assistant police chief.)
But the only person disciplined over the scandal was Whitney. He was fired in August of last year, after nearly 20 years with the department.
The department opened an internal affairs investigation into allegations that he improperly handled information. Though he was cleared of those allegations, he was terminated for removing family photographs and other personal data from his work phone during the investigation, according to a claim he filed with the city on March 24, a first step before filing a lawsuit.
In the claim, Whitney contends he was fired in retaliation for speaking up about the department's culture of impunity.
In an undated letter attached as an exhibit to Whitney's claim, Sampayan wrote, "Frankly, I believe that because John spoke out about a negative culture on the Vallejo Police Department, his reputation was soiled by those who did not want any 'dirty laundry' aired."
Sampayan elaborated in a phone call Tuesday.
"As a retired police sergeant, a police officer for four decades, I find it just absolutely offensive," the mayor said. "It shows absolutely no respect for the uniform, for the community you were sworn to protect."
This article has been updated to reflect information subsequently disclosed by the city of Vallejo in response to public records requests and litigation by this newsroom. The newly-released records establish that one fatal incident had been a shooting; another was an in-custody death not involving a firearm. The number of officers involved in fatal shootings since 2000 has been adjusted to reflect these changes.
Brian Krans contributed to this report.