The Vallejo City Council unanimously approved sweeping changes to the multi-billion-dollar plan to redevelop Mare Island Tuesday night — all of them favorable to the developer at the expense of the city.
The changes include the eventual sale of 157 acres of city-owned land to the development consortium Nimitz Group for $3 million.
Previously, the developers would have leased the public land, allowing the city to cancel the contract at no cost if the developer failed to build. The new term sheet also eliminates specific development guarantees once sought by the city.
A partnership consisting of local and out-of-state investors, Nimitz currently controls more than 800 acres of land on Mare Island, a former Navy base occupied by a mix of housing and businesses, as well as developer-friendly open space and historic buildings.
At issue are the 157 acres that comprise North Mare Island, an area of loose, muddy soil that is at risk of both liquefaction during an earthquake as well as being submerged by climate change-induced sea-level rise.
These problems have been known since at least 2018, when an engineering firm surveyed the area at the city's request, though these concerns have recently resurfaced.
Building more than 1.2 million square feet of commercial, industrial, or retail space on North Mare Island is "feasible," engineers said at the time, as long as any developer took measures to strengthen land and buildings against earthquakes and floods.
Under a term sheet negotiated by the city and unanimously approved by the City Council in October 2019, the Nimitz Group agreed to lease North Mare Island from the city with the intention to develop — and to meet strict performance benchmarks.
Among the points of agreement was that Nimitz would be required to complete 300,000 square feet of redevelopment within 11 years or risk losing its lease on the land.
Whether that 300,000 square feet would consist of offices, homes, or retail shops was unclear — and, to some members of the public and the City Council, unimportant. Nimitz just had to guarantee that it would build.
That term sheet, praised by the City Council at the time for having concrete deliverables, was abandoned earlier this year, as Open Vallejo previously reported.
A new term sheet was needed for two reasons, representatives for the city and the developers claimed in written statements issued ahead of Tuesday's meeting.
First, the COVID-19 pandemic has severely impacted the capital and housing markets, which has contributed to an ongoing slowdown in the region's commercial construction projects.
In addition, Nimitz and its new developer partner, a Tennessee-based firm called Southern Land Company, now believe that North Mare Island may be more costly to build on than was previously acknowledged. Environmental factors could present a financial liability in excess of $20 million, the city and the developers asserted.
"It became apparent that preparation of the land prior to the development of any buildings would be more complex than previously understood and due to that, the term sheet needed to be adjusted," said Sheryl McKibben, a spokesperson for Southern Land Company, the "manager and developer" for Nimitz, who added that the new term sheet has "many benefits" for Vallejo.
But according to former city negotiators who say they were fired after raising concerns, City Manager Greg Nyhoff pushed to abandon the October 2019 term sheet because both the Nimitz Group and Southern Land Company, a newcomer to the deal brought on by Nimitz in early 2020, wanted more favorable terms.
Buying the land instead of leasing it "was one of the larger factors" prompting renegotiation of the term sheet, interim Deputy City Manager Gillian Hayes said Tuesday.
As much as $50 million in soil, flood protections, and other work might be necessary for Nimitz to redevelop North Mare Island, according to Hayes.
"It's in the interest of that potential developer to get some ownership, in order to be able to get that financing," she said.
The new, more developer-friendly term sheet discussed Tuesday has only intensified concerns that Vallejo's elected officials are letting Mare Island, the city's biggest-ever real-estate opportunity, go for less than it is worth.
Tuesday's meeting is the final regular council meeting scheduled for 2020. A new City Council will be sworn into office in January. Two new members will be seated.
Last month, Mayor Bob Sampayan, published a statement on his Facebook page that the city was "not changing the agreement from 10/19," and that any such suggestions were "bold faced lies."
Sampayan, who is scheduled to leave office in the new year, did not respond to requests for comment.
In an email on Thursday, Councilmember Robert McConnell, the city's incoming mayor, questioned the necessity of selling the land rather than leasing it.
"I did not see COVID as a proper justification to move from lease to purchase," McConnell said, while allowing that the soil "might justify a change in the mind of the developer."
But "the real battle that is more important," he added, will be the negotiations over the final, binding, development and sale agreement. That document will appear before both the City Council and the Planning Commission, possibly as soon as the early summer.
New changes, no guarantees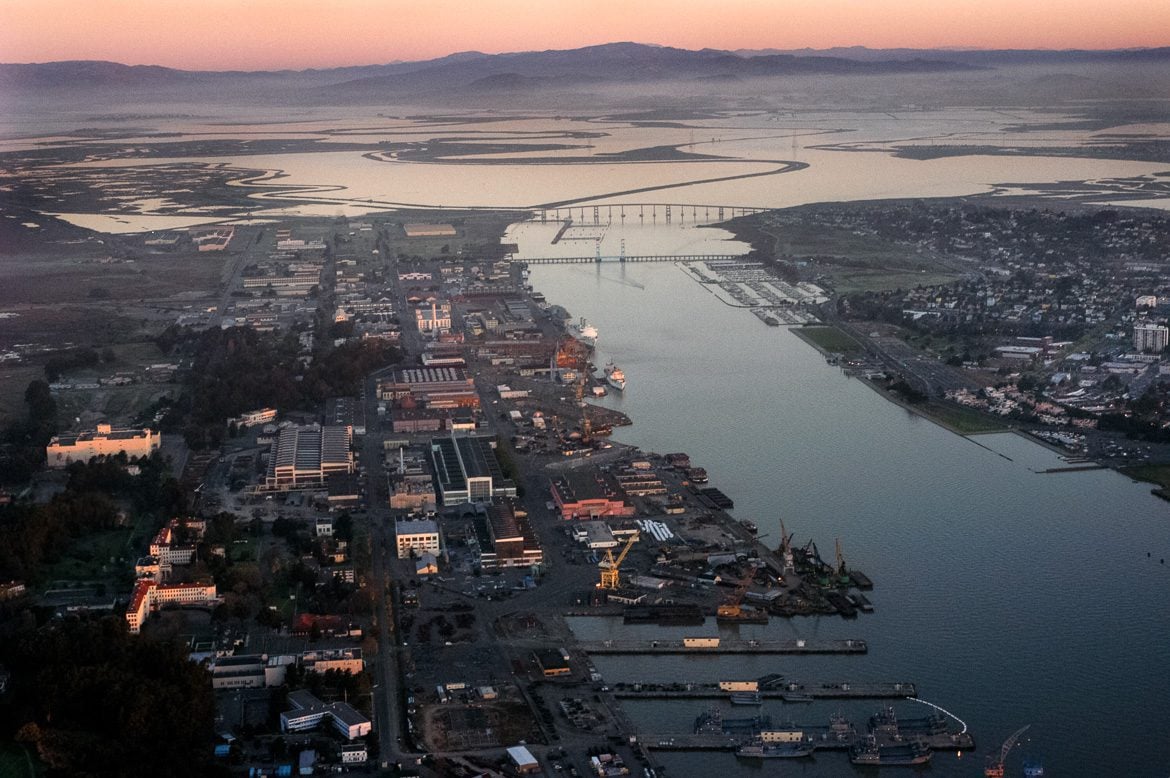 The new term sheet approved Tuesday night no longer requires Nimitz to finish 300,000 square feet of development. In fact, the new term sheet has no performance guarantees.
And instead of Vallejo leasing the land to the developer, Nimitz will be able to purchase the 157 acres of North Mare Island outright, for $3 million.
This would allow Vallejo to repay a loan from the federal Department of Housing and Urban Development, money borrowed to demolish buildings once used by the Navy.
The previous term sheet allowed Vallejo to cancel Nimitz's lease and reclaim the land if Nimtiz failed to meet certain performance guarantees. Under the new term sheet, the city may be able to repurchase North Mare Island from Nimitz, if Nimitz underperforms — and, depending on how much Nimitz spends on infrastructure, potentially at a profit for the developer.
Councilmember Robert McConnell asked city staff to include a clause in any future development agreement that the repurchase price be capped at $13 million. Even if that clause were to be included, that would still mean Vallejo would be forced to pay Nimitz to reclaim Mare Island, should the developer choose not to build — rather than simply reclaim the leased public land from its erstwhile tenant.
In comments to the council Tuesday, Nyhoff said he believes Nimitz can be trusted to build.
"The term sheet, I think, really requires them [Nimitz] to invest significant money very quickly," he said. "If you invest money, you want to get a return on that investment."
"They're not prepared to sit on the land."
Nyhoff previously told this publication that he negotiated directly with principals of Southern Land Company and Nimitz Group over the course of several meetings in Tennessee and Vallejo, beginning in the fall of 2019.
The new term sheet represents ongoing negotiations rather than a final agreement. There is no guarantee that its language will end up in any eventual, binding sales agreement.
According to McKibben, Nimitz has already completed 100,000 square feet of development, when Factory OS, a homebuilder with facilities on Mare Island, expanded into a new building this year. The city will start collecting "a minimum" of about $112,000 in property taxes beginning in 2026, she added.
Critics of the term sheet say that it amounts to a giveaway that would sell public land to Nimitz for a fraction of its market value, while allowing the developer to sit on the property for years without substantial development."The bottom line is that this may be the best deal the City can get," a person writing under the pseudonym Anonymous Vallejo wrote in an email to the City Council and obtained by Open Vallejo. "It may even be a fair deal. But why is it a weakened deal from the originally negotiated term sheet?"
Resident Don Osborne questioned why the new term sheet appeared so quickly — and why it cannot wait until January.
"This project is going to outlive me," said Osborne, who contacted the City Council over his concerns that the term sheet was being changed without public input.
"This is so complex, it shouldn't have to be voted on tonight, with the City Council heading out" for new members' swearing-in next month, he added.
"I want to trust the city. I want to trust the City Manager," Osborne said.
"But," he added, "everything I see makes me nervous."
In his email, McConnell noted that "Mare Island is really the last large developable area in the Greater San Francisco Bay Area."
"It will be developed. We all want to see that," he said. "But who finally does it, when there will be meaningful progress, what it looks like, and the impact it will have on those of us who continue to make Vallejo our home — all remain to be decided."
"Not providing an impactful process to the public would, in my view and values, be a fatal error."